My Desktop Taskbar Icons Are Gone, Missing Icons C Drive Programs and Start Menu – Desktop Empty or Black After Windows XP Vista 7 Virus – How to Fix Missing Desktop Icons After Windows Virus?
Are you wondering why the hell your desktop icons are missing?
With only Recycle Bin icon left, you might be wondering why in the world your laptop or PC appearing empty, black or haunted?
You may be wondering where your start menu programs are? All the desktop icons seem to be hiding somewhere and emptied,  Your taskbar manager greyed out and disabled.
Your PC has been infected with "IDE / SATA hard disk failure" or "Critical Hard Disk Drive Error" Virus such as Windows XP Vista or 7 Fix /Restore/ Repair or Recovery Virus.
So how to unhide those missing programs and icons from Start Menu and recover the icons and background on desktop? How to make them appear on your desktop from missing?
How to enable the missing desktop and start menu icons and programs?
Well, follow this simple guide and in no time you could get back your PC or laptop working as before.
Are you ready? Let's get started right away to fix missing desktop icons and start menu!
While your PC is infected with Windows Virus , it will cease the ability to run any programs as a procedure to scare you into thinking that your PC is affected with spyware. Also, this Windows Xp Vista or 7 virus make it so that certain folders on your computer display no contents at all. When you open C: or D: drive  folders, or C:/Windows/System32  instead of seeing the normal list of files it will instead display a different folder's contents or make it appear as if the folder is empty. This is done to make it seem like there is corruption on your hard drive that is causing your files to not be displayed. It does this by adding the +H, or hidden, attribute to all of your files, which causes your files to become hidden. It will then change your Windows settings so that you cannot view hidden and system files.
Your desktop will be black and blank, your desktop icons may be missing. In order to view all the hidden files do this,
1. Click Start, Run and type in Open field: %allusersprofile% as shown below. or Press Windows Logo and R.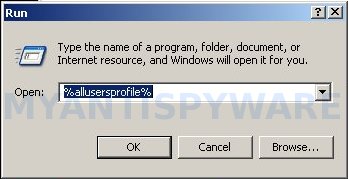 2. Press Enter. It will open the contents of All Users folder.
3. Windows XP Vista or 7 Viruses hides all files and folders, so you need to change some settings and thus be able to see your files and folders again. Open Tools menu, ->Folder Options,->View tab. Select "Show hidden files and folders" option, uncheck "Hide extensions for known file types", uncheck "Hide protected operating files" and click OK button.
4. Open Application Data folder and you will see Windows XP Vista or 7 Virus associated files as shown below.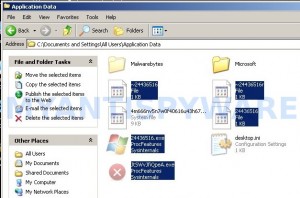 5. Basically, there will be files named with a series of numbers or letter (e.g. 2636237623.exe or JtwSgJHkjkj.exe), right click to it and select Rename (don`t rename any folders). Type any new name (123.exe) and press Enter.


You can to rename only files with .exe extension. Its enough to stop this malware from autorunning.
6. Reboot your computer.
7. Now you can unhide all files and folders that has been hidden by Windows XP Fix. Click Start, Run. Type cmd and press Enter. Command console "black window" opens. Type cd \ and press Enter. Type
attrib -h /s /d and press Enter. Close Command console.
8. If your Desktop is empty, then click Start, Run, type %UserProfile%\desktop and press Enter. It will open a contents of your desktop.
9. If your Start menu is empty you need to use the following steps:
Click Start, Run. Type
%temp%
Press Enter.
It will open a contents of Temp folder. Next open "smtmp" folder, next open a folder named "1″ (one).
Right click to Start button. Select Open.
It will open a contents of "Start Menu" folder.
Copy all contents of "1″ folder to "Start Menu" folder.
10. If you can`t run the IE, then you should fix the proxy settings of Internet Explorer.
Run Internet Explorer,
Click Tools -> Internet Options
Choose Connections Tab
Click LAN Settings button.
Uncheck "Use a proxy server" box. Click OK.
Click Apply.
Click OK.
And go to http://reimagepcrepair.com to run a Scan.
Reimage works by comparing each and every Operating System system files with the correct files from a web repository of 25 million OS components. (since Reimage works by comparing with correct file, it can easily find the concealing rootkit, infact this is what a rootkit remover do……dumps a list of files from your hard disk drive and compares it with the list from the recovery console in order to find a hiding virus) This is the sole reason you can get a PC as good as new once you run Reimage, all other antivirus and antimalware programs only delete the virus….but they don't fix the damage…which results in re-infection and slow performing PC.
Reimage first scans your PC exhaustively; all the files, folders, registry keys and values, drivers, softwares, stacks and then either fix or remove those stuffs that should be there. But it's not just that it does. They have an tremendous web repository of application, drivers, system objects, etc. from where they compare your PC's files and if corrupted replace it with the healthy ones.
Go to Reimage For a Complete Scan Now to Get Rid of Windows Xp Vista or 7 Virus Completely